Do you have icicles hanging from the roof on your home? If so, you may have a small – or large – ice dam, which can cause water damage you may not see or be aware of. Ice damscause melting water to pool, and it pushes the water under the shingles and roofing materials – and into the walls or ceiling of your home. Understanding how they form is the key to ice dam prevention.
Ice dams can be one of the biggest causes of water damage in the winter – and if you haven't walked around your house this winter to check your roof and gutters for them – this simple task (using the tips shared below) can help you prevent damage before it happens.
How Ice dams form
When there's new snowfall, any warm air in your attic melts the snow, and the meltwater runs down to the eave of the roof, where it's much colder, causing the water to re-freeze. As layers of ice build up near the gutters and eaves, it created a physical barrier or "dam" that blocks new meltwater from draining. The pooling water takes the path of least resistance, which is usually under the roofing shingles, or through gaps in the roofing materials, causing water damage inside your home. We see this type of damage every winter in Colorado, predominantly in Aspen, Snowmass Village and Basalt – where the air temperatures stay cooler, causing buildup of a heavier snow load, but we see them in Carbondale and Glenwood Springs as well, depending on the snowfall.
Prevention
Here are the best ways to avoid flooding in your home from an ice dam. Ice dam prevention is key. When you see ice building near your gutters – act quickly.
Remove the source.It's probably a no-brainer, but removing snow before it melts greatly aids in ice dam prevention. Removing the source will result in less meltwater to cause issues. It's best to remove these snow loads after each heavy storm/snowfall. If you have a challenging or large roof, you may want to hire a snow removal company. We have a few Preferred Vendors that do great work if you need a referral.
Consider "heat tape". If your home receives heavy snow most winters, it might be worth investing in having 'heat tape' installed, which helps prevent ice dams from forming on the eaves.
Check the Insulation in your Attic. 9 times out of 10, the reason ice dams form is because of warm air in your attic. The air in your attic is supposed to be cold in the winter, which is why insulation is placed at the ceiling level – not at the roof level. When insulation is moved around, uncovering some areas of your ceiling and letting warm air escape into the attic space – this can cause the melting resulting in ice dams. Have a professional inspect your attic insulation to confirm that it's properly installed, and that it's an appropriate R-value (thickness/insulating value). Thermal imaging can also help detect any heat leaks into the attic.
Improve venting/air flow in your attic. One way to mitigate any warm air intrusion into the attic is to make sure it's properly ventilated. It's surprisingly common for us to see attics that have insufficient venting and air flow, which can lead – not only to the conditions for ice dam formation – but also mold growth due to humid air not being able to escape the attic. If you are seeing ice dams on your roof, check to make sure there is sufficient venting and it's not blocked by something.
Ice Dam Removal
If you are seeing ice dams on your roof, there are a few options for removing them. We recommend a few companies locally that have a variety of approaches to safely remove these hazards before they cause water intrusion into your home – or worse – fall on someone walking under the eave of your roof.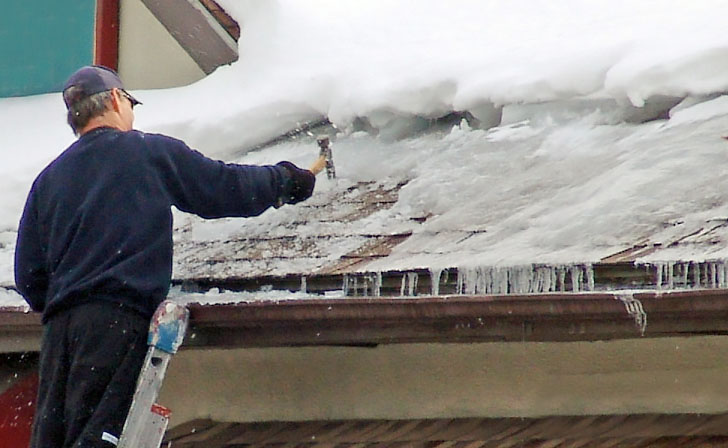 If you suspect that water has intruded into the walls or ceiling of your home, which sometimes shows up as water marks on drywall – and other times is hidden and can only be detected with moisture meters or thermal imaging – call a professional restoration company to inspect for damage. If water damage is left unmitigated for more then 3 days, it usually turns into mold damage (which takes only 48-72 hours to start growing) which can be more involved to have professionally contained and removed so it doesn't spread mold spores to the rest of your home or cause a health hazard.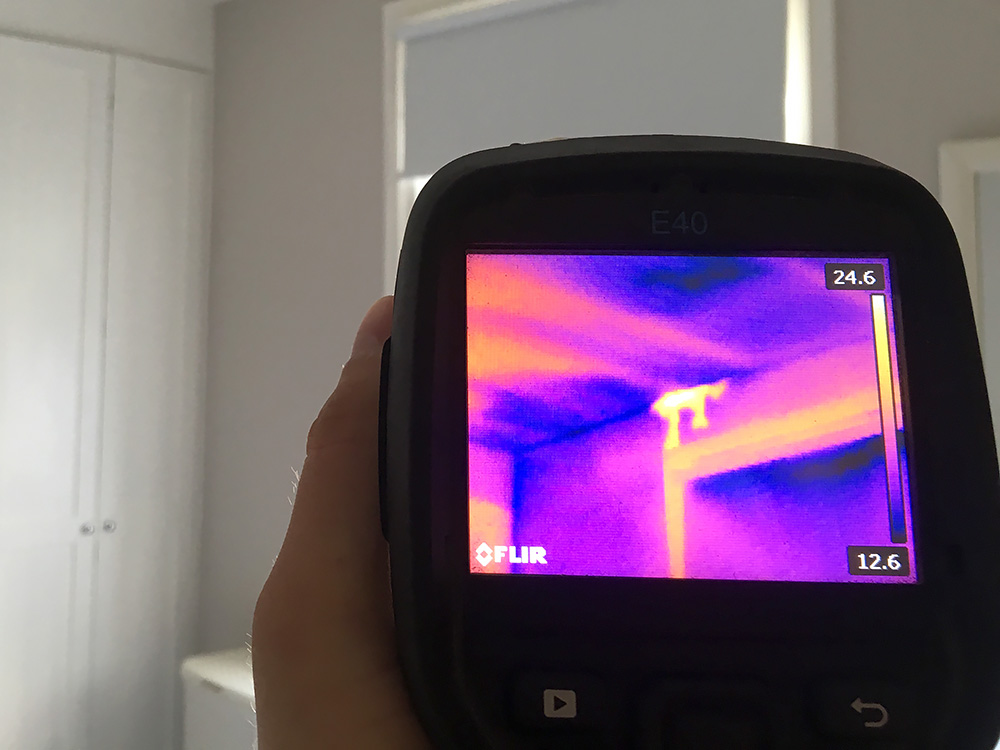 If you need an area of your home professionally dried, or mold removed, we can provide an estimate and respond 24 hours a day. As long as you catch the damage quickly, we can usually save most of the affected drywall.
Belmont Clean + Restore is based out of Carbondale, but serves the entire Roaring Fork Valley in Colorado. You can reach them 24/7 at (970) 404-8444.